Care for the environment
We work with our clients to deliver print and design solutions that are socially and environmentally responsible as well as beautiful and effective.
Five reasons to print green with us
1. We're experienced. Our environmental policy has evolved over 40 years as an ethical business.
2. We're official. We are Forest Stewardship Council® and ISO 14001 certified.
3. We can help you meet your green commitments. We can provide information on our energy and water use, materials, and more.
4. We'll make your product more eco-friendly. We can offer advice on the least harmful formats, papers, and finishes.
5. We don't compromise on quality or creativity. Sustainable shouldn't mean second best. You can download a copy of our quality policy here.
My choice of creating this work was hugely influenced by Arthur at Calverts. He explained the process behind the production of 'Shiro Alga Carta' paper from Italy.

I made a clear decision to print my eco-story book and first music album using this extraordinary seaweed / recycled algae paper.

I often recommend the services of Calverts to my clients as they often ask where can they source environmentally friendly paper in London.
 – Carina Coen, author of Sylvie's Wish

Arthur talks with Carina about sustainable paper and eco-friendly inks.
Forest Stewardship Council (FSC)
We are Forest Stewardship Council® certified, which means that the papers we use can be traced back to responsible forestry through a certified chain of custody. We help our clients find the perfect recycled papers for their project. License number: FSC®C007915
ISO 14001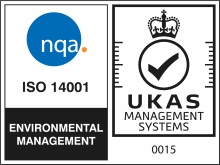 We adhere to the ISO environmental management system standard. We use it to measure, control and reduce impacts including carbon emissions, recycling and resource efficiency. Our external ISO audit is carried out by NQA, a UKAS-accredited certification body.
Inks and solvents
We use vegetable oil-based inks on our litho press, soy-based inks on our risograph printer, and partly plant-based dry toner on our digital press. These have less impact on the environment during production, use, and when paper is 'de-inked' to be recycled. Used solvents are collected by a licensed environmental partner and where possible treated by bio digestion.
Metals and plastics
Our aluminium printing plates are recycled and re-used by the construction, motor, and print industry. We recycle plastic containers wherever possible too.
Green energy
100% of our electricity is generated from hydroelectric and wind power. Our supplier is Ecotricity, who also supply gas for our heating system. We chose them because of their commitment to researching, investing in and developing more sources of renewable energy for industries like ours.
We love bikes
We encourage cycling to work and that's what most of our members do. We are members of
Zen
, the London Zero Emissions Network, and use a cargo bike for small local drops to suppliers and customers. We campaign for better cycle and electric vehicle facilities in the city.
Our free PDF factsheets clear up some common terminology and offers suggestions for what to think about when printing sustainably.